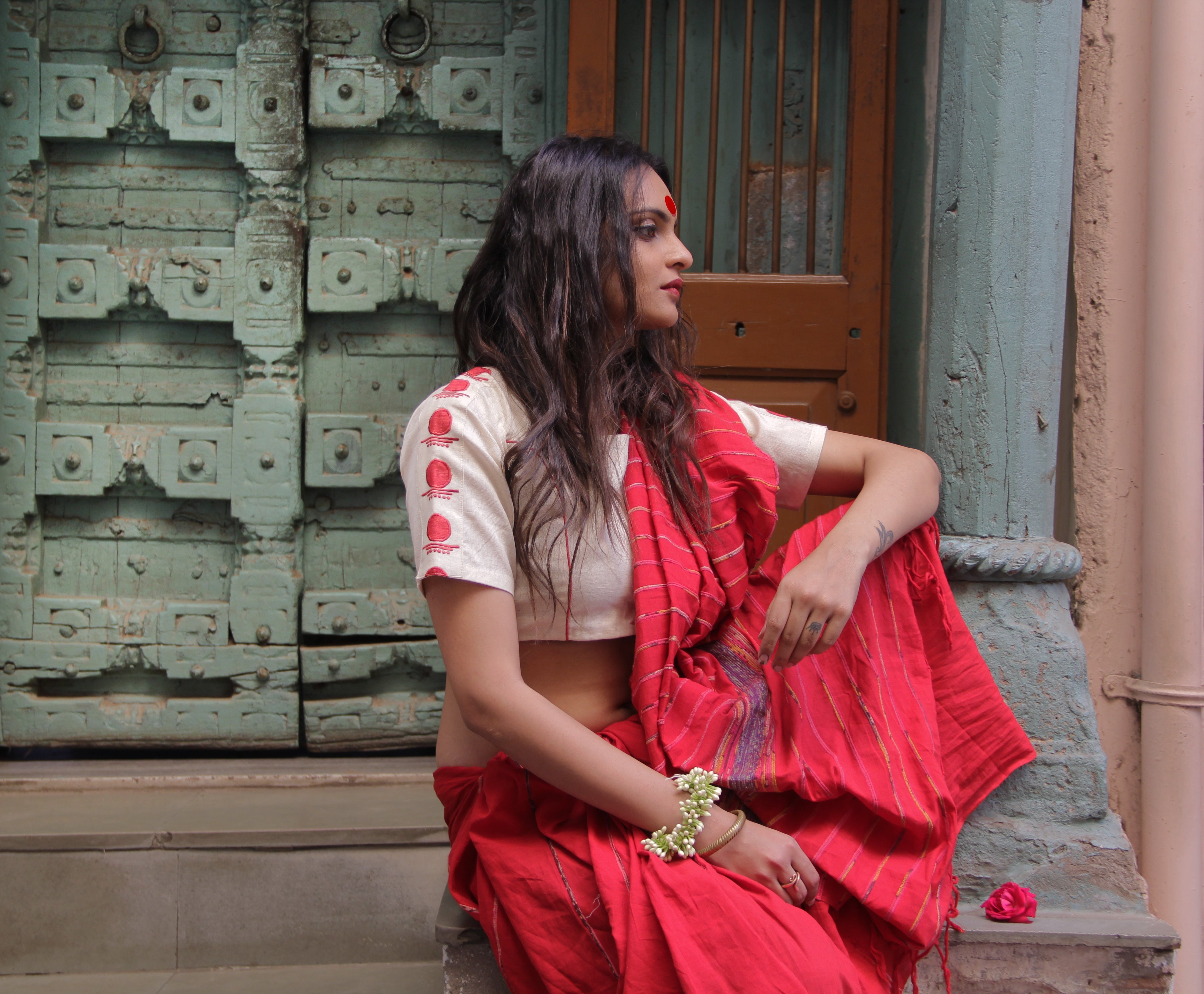 The visible transition from being just an extension of the 6 yards to claiming it's own existence with elan , this form of garment, the blouses have come a long way of being, evolved through the journey and made a strong statement .Yes , blouses have become a statement piece with it's own right. Several times it is the blouse which defines and decides the saree we drape with it .
Blouses- A must-have in every wardrobe 
We at Prathaa have paid a lot of attention while designing the blouses , maintaining the focus towards detailing that this form of garment deserves. 
The sustainability story 
Each of the blouses designed by Prathaa narrate a real ethically sustainable story. 
More wear per blouse 
Every blouse made in natural cotton, is designed in a way that they can be worn multiple times, styling them differently every time you wear them. Most of them are in colours that can be styled with multiple sarees, even with the option of styling them as half sarees with skirts and dupattas , or just wearing them with any bottoms like pallazos, skirts , sharara's etc . With more wear per garment we are effortlessly contributing to the conscious fashion goal and seamlessly being a part of the bigger sustainability story .
Consciously made fabrics 
The blouses designed by Prathaa has always received immense love since inception because of it's variety and versatility, the fabrics used in each are unique and brings forth the story of heritage weaves of india,restoring faith in the skill and craftsmanship behind each one of them . 
With every piece of garment you wear from Prathaa, you contribute to the revival story that Prathaa is contributing to one step at a time.
3.Creating Sustainable livelihood 
Prathaa's designing process keeps evolving, keeping our core value system un-moved,creating sustainable livelihood for the talents behind the craftsmanship along with educating our end consumers to be able to make mindful purchase.
Our blouses range from Jamdani to Khesh , Ajrakh to Patchwork ….and much more .
Check Prathaa Blouses here .
Here's a glimpse into few of our best sellers 
Flare Sleeve Jamdani blouse design
This three tier flared sleeve white blouse is made in Prathaa's signature bindi jamdani motifs. This motif has been exclusively co-created by Prathaa and their weavers to offer something special to our prathaawoman.
. 
The sleeves in this white bindi jamdani blouse add all the drama with the middle tier in red abstract handloom weave. Everyone's favorite and is also a versatile garment. This is a blouse for red jamdani saree or any contrast saree. Can also be styled with various other bottoms .
This design is synonymous to quality and appeal. The aesthetics of this blouse do not need to be spelt out. It is the perfect choice for an evening outing or for wearing it during the festival season.
To buy White Three Tier Flair Sleeves Blouse in Jamdani Fabric click here https://prathaa.in/collections/tops-blouse/products/white-three-tier-flare-sleeves-blouse-in-bindi-jamdani-woven-fabric
About the Jamdani weave
–
Jamdani is a discontinuous weft technique of weaving. The motifs are inlaid into the fabric when the weaver adds denser thread to fine warp threads by hand. This handloom weaving technique to achieve the motif is labour intensive and time consuming.
Jamdani is believed to be a fusion of the ancient cloth-making techniques of Bengal. The weave is indigenous to Bangladesh. The name 'Jamdani' is of Persian origin and comes from the word "jam" meaning flower and "dani" meaning vase.
The intricateness of the motifs is what displays its beauty and uniqueness.
We at Prathaa have been in touch with our loom experts from the villages who have helped to develop this exclusive fabric and exquisite Motifs on the fabric.
Ajrakh Blouse 
There are exciting varieties of Ajrakh blouses available online at Prathaa. Here's a V-neck ajrakh print blouse design, with elbow length sleeves and frills on sleeve and bottom hems. 
This ajrakh readymade blouse has a beautiful play of checks and stripes in the age old ajrakh form of art, in rich colors. The gorgeousness of the blouse design promises a flexibility to be teamed with any saree, to be able to raise the style quotient of any look. 
To Buy Ajrakh Frill Bouse click here:  https://prathaa.in/collections/tops-blouse/products/ajrakh-frill-blouse
Here we have styled the Ajrakh print blouse with a handloom cotton saree .You can also wear it as a half saree .
Check out another ajrakh blouse styled with our reversible Ajrakh skirt , apt for the festive look .
About the weave : Ajrakh is a resist block-printing technique native to Ajrakhpur, in Bhuj, Gujarat historically connecting to the Indus Valley Civilization. The fabric is created through traditional vegetable dyeing by using natural and organic substances like indigo, madder, harde powder, pomegranate seeds and others to dye the fabric.
Ajrakh's intricate motifs and patterns are achieved through one of the most sophisticated block printing techniques. It goes through 21 complex steps and can take up to 2 weeks to accomplish. The feel and smell of the fabric is so rich that it is not questionable why the weave is special.
Khesh Cotton Saree Blouses 
A bengali traditional white khesh blouse for saree with red gamcha frills. It has an opening of hook and eye on the back. The frills are made of Red Gamcha handloom fabric. This Khesh Blouse design is available online and everyone's classic favorite .
Styling tip: Style with our signature bindi saree or any saree of your choice. 
While we retain the traditional look in this frill blouse , here's another sleeveless cotton khesh blouse design where the chic quotient is enhanced to a another level . https://prathaa.in/collections/tops-blouse/products/red-khesh-overlap-blouse-with-jacket-collar
This defines the versitality and design range that you enjoy with us 
About the Weave : Adhering to our commitment, we at Prathaa, work with natural, breathable and hand woven fabrics. Each piece of fabric that creates your garments tells the life story of the artisans through their handwork, and also contributes to reviving the art by being a positive force towards maintaining their livelihood.
The handloom Khesh is a eco friendly weave, very close to our hearts taking us a step closer to our sustainability goal.
The thin strips are torn from old sarees which are then incorporated into new fabric. The weaver sits intently on his Hand Loom machine twisting and adding the thin strips of the sarees to fresh warp threads, to create the new and up-cycled Khesh weave.
The fabric develops stripes which can sometimes differ in color metre to metre. The "beautiful irregularity" is precisely its uniqueness.
Handwoven Kala Cotton Blouse design 
This off white kala cotton umbrella sleeves blouse with piping details and Mata-Ni-Pachedi patch work is available online. https://prathaa.in/collections/tops-blouse/products/kala-cotton-white-umbrella-sleeves-blouse-with-patch-work
Kala Cotton is one of the few genetically pure cotton species remaining in India, and one of the only species of pure, old world cottons to be cultivated today on a large scale. Kala cotton is indigenous to Kutch and by default organic and eco-friendly,as the farmers do not use any pesticides and synthetic fertilizers. It is a purely rain fed crop that has a high tolerance for both disease and pests, and requires minimal investment. It is both resilient and resurgent in the face of stressful land conditions.
Mata-Ni-Pachedi art form has been used as a patch in this kala cotton blouse design, which is a 300 year old form of art using all natural colours . It has a very elaborate process to reach it's completion . 
The Classics from our very first Signature Bindi edit –
Bindi appliqué embroidery motifs on the sleeves of the off-white handloom cotton blouse depict the cultural symbol of Indian heritage in a modern way. Wear it to enhance the look of your simple red saree to an ultra stylish look. This saree blouse is fabricated from comfortable handloom cotton.The princess cut is designed to flatter all body types. The open back with the knot detailing adds to the chic-ness of the blouse. https://prathaa.in/collections/tops-blouse/products/princess-blouse-with-bindi-sleeve-details
Another favourite from this collection is the sleeveless handloom cotton blouse made with bindi appliqué embroidery patch at the centre back.
Wear it as a blouse to enhance the look of your simple red saree or a crop top with denim jeans for an ultra-style look.  
 https://prathaa.in/collections/tops-blouse/products/sleeveless-blouse-with-bindi-patch-details
You can also try pairing it with palazzos and culottes for a distinctive appeal.
Here's some fun element in the blouses -
The Blouses with quirk , fun and appeals to multiple styling – in spaghetti sleeves or umbrellas sleeves , you can get wildly innovative with the styling ideas of these . Also check the collared jacket style blouses which can also be worn as a jacket. All of these can be worn as crop tops too.
Takeaway - How wonderful it is to dress up for your own self yet feel and be so responsible towards the environment and society. 
Find all the Prathaa blouses just a click away  https://prathaa.in/collections/tops-blouse?page=1