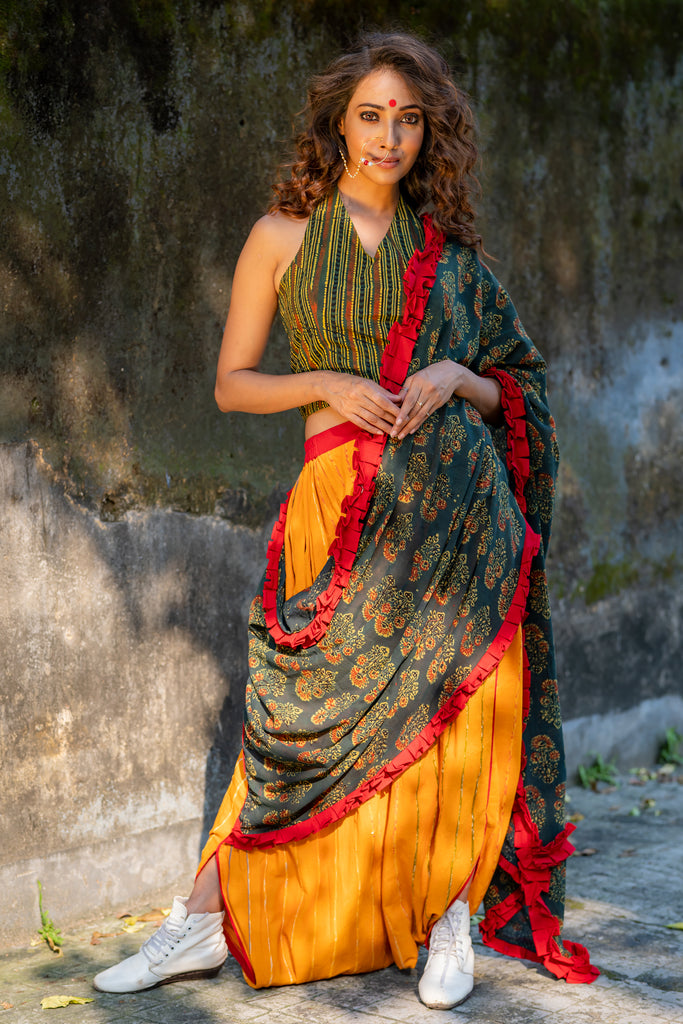 Key Features :
Khesh, Handloom Cotton, Ajrakh  Print, Dhoti Drape, Sustainable, Halter Neck   

Description :
Chrome Yelllow Khesh Dhoti with Floral Print Mul Ajrakh Pallu & Red Handloom cotton Frill, Piping & Waistband detailing paired with Stripe Ajrakh Halter neck blouse. 
Styling tip :
Can be worn as a contemprorary saree. Style it with shoes & minimal accessories.
Fabric Write up :
The Weave Story: Ajrakh is a resist block-printing technique native to Ajrakhpur, in Bhuj, Gujarat historically connecting to the Indus Valley Civilization. The fabric is created through traditional vegetable dyeing by using natural and organic substances like indigo, madder, harde powder, pomegranate seeds and others to dye the fabric.

Ajrakh's intricate motifs and patterns are achieved through one of the most sophisticated block printing techniques. It goes through 21 complex steps and can take up to 2 weeks to accomplish.
The feel and smell of the fabric is so rich that it is not questionable why the weave is special.

Adhering to our commitment, we at Prathaa, work with natural, breathable and hand woven fabrics. Each piece of fabric that creates your garments tells the life story of the artisans through their handwork, and also contributes to reviving the art by being a positive force towards maintaining their livelihood.
The handloom Khesh weave has been very close to our hearts building our sustainability story stronger.
The exploration and understanding started when the team visited West Bengal's Birbhum district. The weavers there collect cotton saree's and the women patiently tear the sari into multiple long strips.
The thin strips are then incorporated into new fabric. The weaver sits intently on his Hand Loom machine twisting and adding the thin strips of the sarees to fresh warp threads, to create the new and up-cycled Khesh weave.
The fabric develops stripes which can sometimes differ in color metre to metre. The "beautiful irregularity" is precisely its uniqueness.
< Show Less
At Prathaa, we take great care in delivering your products to you, and we partner only with reputed national couriers. Shipping within India is FREE for all orders above Rs. 2,000. For orders below that, we charge a flat Rs. 100 shipping fee. International shipping approximately between INR 1500 - 2500. Our courier partners will be able to deliver the shipment to you between Monday and Saturday : 9.00 am to 7.00 pm. Working days exclude public holidays, Saturdays and Sundays. Delivery time is subject to factors beyond our control including unexpected travel delays from our courier partners and transporters due to weather conditions and strikes. As soon as your package ships, we will email you your package tracking information.
1. Dry Clean for the first 2-3 washes.
2. Only hand wash,when washing at home.
3.Wash in cold water. 4. Do not dry in direct sunlight.
5.Wear it with a lot of love,
Please note the beauty of handwoven naturally dyed weaves is in the irregularity.
So, some gentle care is always good .
Specifications : 
| | |
| --- | --- |
| Fabric | Khesh & Ajrakh |
| Color | Dark Green & Chrome Yellow  |
| Garment Length | 55'' |
| Neck | V/ Halter Neck  |
| Sleeve Type | Sleeveless |
| Sleeve Length | N/A |
| Pattern | Dhoti Drape  |
| Wash Care | Dry Clean Only |
| Season | Summers |
| Occasion | All Occasion |